If you are a singer performing live shows, one thing that you will definitely have use for are some good in-ear monitors. That said, finding good in-ear monitors is easier said than done. Luckily for you, this is exactly what we are here to help you with today. Let's get to it and take a look at the top seven contenders for the best in-ear monitors for singers.
Best In-Ear Monitors for Singers: Reviews
1. Westone Audio Pro X20 Professional In-Ear Monitors Clear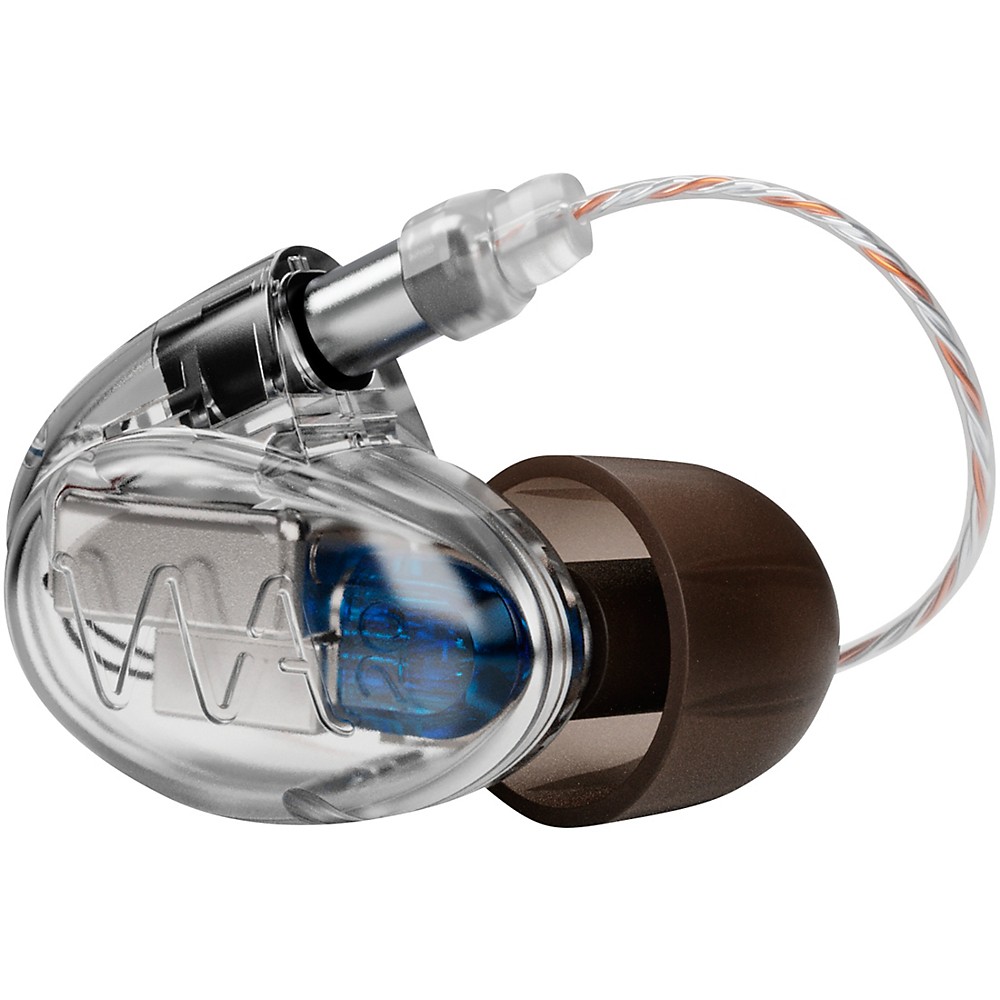 The Westone Audio Pro X20 in-ear monitor system was developed to reproduce a large and enveloping sound. Featuring two proprietary balanced-armature drivers with a two-way passive crossover network, it has the range and output for virtually any stage condition.
The dual balanced-armature driver design delivers a robust low end and crystal-clear highs, with all the detail and nuance that professional musicians have come to expect from Westone Audio. Ergonomic Technology and 60 years of experience designing products for the ear, has resulted in a universal-fit earpiece that is compact, low-profile, lightweight and extremely comfortable.
Westone Audio proprietary eartips enhance the performance of the Pro X20 by ensuring a great fit and seal right out of the box. Balanced-Armature Driver Westone Audios' proprietary balanced-armature drivers provide enhanced sonic detail and frequency range that extends well beyond other in-ear solutions.
Linum Bax T2 Detachable Cable High-strength, ultra-low resistance tensile wire design with aramid fiber, with the most advanced T2 connector available in the industry. Precise Acoustic Symmetry Left and right earpiece responses are matched to an extraordinarily tight +/- 2dB tolerance. This extends well beyond typical in-ear solutions.
With Balanced-armature drivers for enhanced sonic detail. Linum Bax T2 detachable cable with high-strength, ultralow resistance tensile wire. Precise acoustic symmetry. Ideal for onstage monitoring, vocalists, guitar players, keyboardists, drummers, and sound engineers.
Pros
Well made
Durable
Clear sonic detail
Very good for on-stage monitoring
Comfortable to wear
Lightweight
Cons
2. Sennheiser IE 100 PRO In-Ear Monitors Clear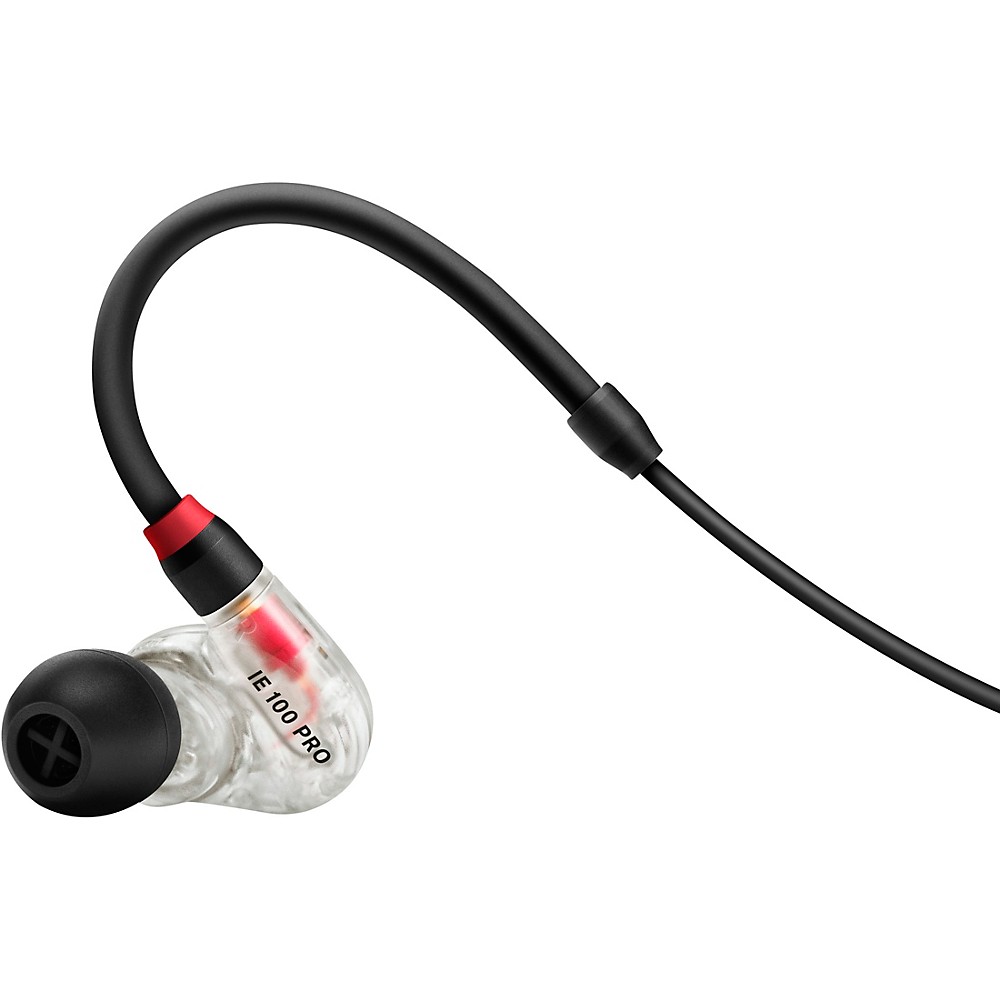 For high expectations on live stages, the IE 100 PRO Monitoring Headphones from Sennheiser provide a precise acoustic overview for live performances with a dynamic driver and an innovative diaphragm that delivers a warm, yet powerful sound. Even in extremely loud environments, everything remains distortion-free, and defined.
Musicians and DJs choose the IE 100 PRO for its exceptional sound and comfort for both live session applications as well as producing or as an everyday tool.
Innovative, dynamic 10-mm broadband transducer for powerful, precise monitoring. Dynamic driver system reduces acoustic stress factors through homogenous, distortion-free reproduction.
Secure fit: an innovative single-driver design allows for a slim and ergonomic construction and excellent shielding thanks to an optimized earpiece and flexible silicone/foam tips. They also include a Stage-proof cable with an internal cable duct.
Pros
Powerful and precise monitoring, even in loud environments
Distortion-free sound reproduction
Price
Secure in-ear fit
Good shielding from other noise on stage
Safety Pouch included
Cleaning tool included
Cons
Not wireless (you will need a receiver)
3. Mackie Mp-460 In-Ear Monitors With Quad Balanced Armature Clear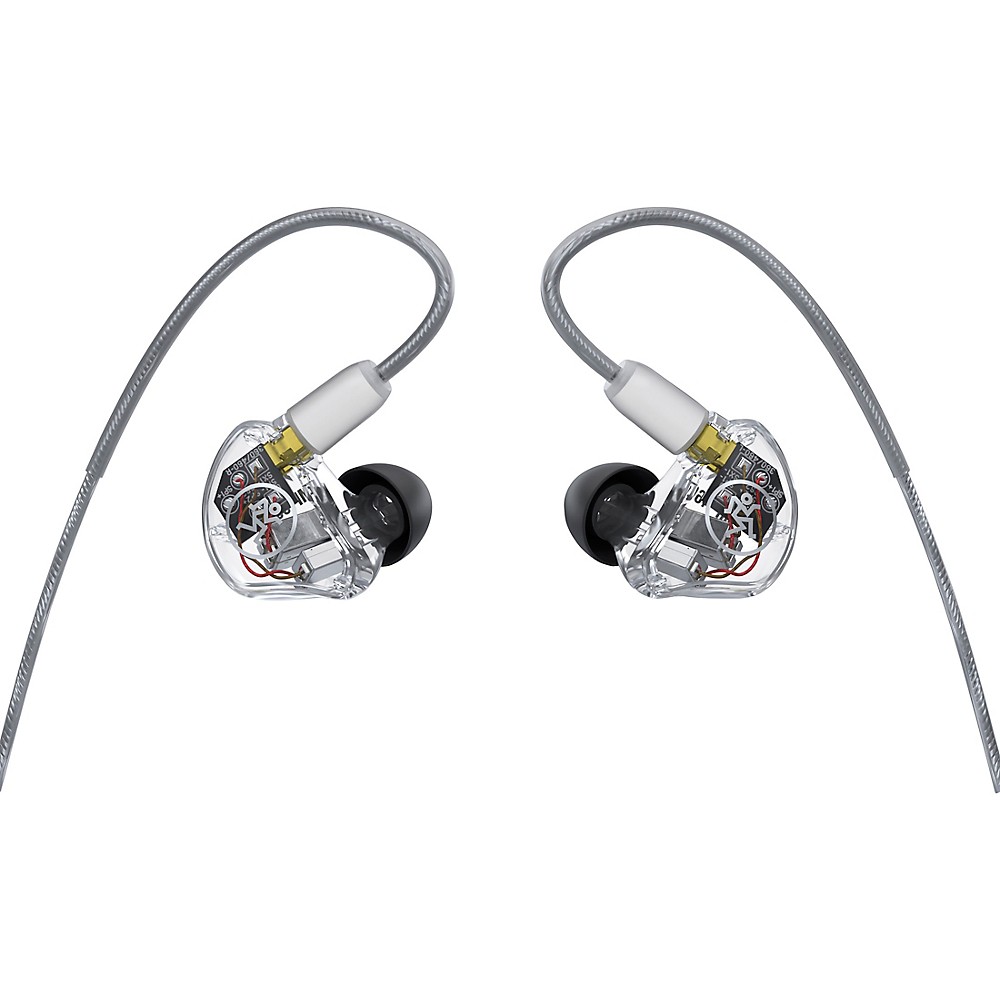 For decades, Mackie's renowned loudspeaker designs have been helping artists perform their best. The Mackie MP-460 Professional In-Ear Monitors build on that legacy with incredible sound and build quality for artists, mix engineers, and audiophiles.
Featuring a quad-balanced armature design, the MP-460 In-Ear Monitors take high fidelity to the next level for truly stunning vocal clarity and detail that will satisfy the most discerning listener.
And thanks to their specially molded enclosures, they sit gracefully in your ear with a comfortable, ergonomic fit with up to 40db of sound isolation.
Pros
Comfortable fit
Stunning vocal clarity
Great all round sound
Build quality
Cons
To make these wireless, you will have to pair them up with a receiver.
4. Audio-Technica Ath-E50 Professional In-Ear Monitor Headphones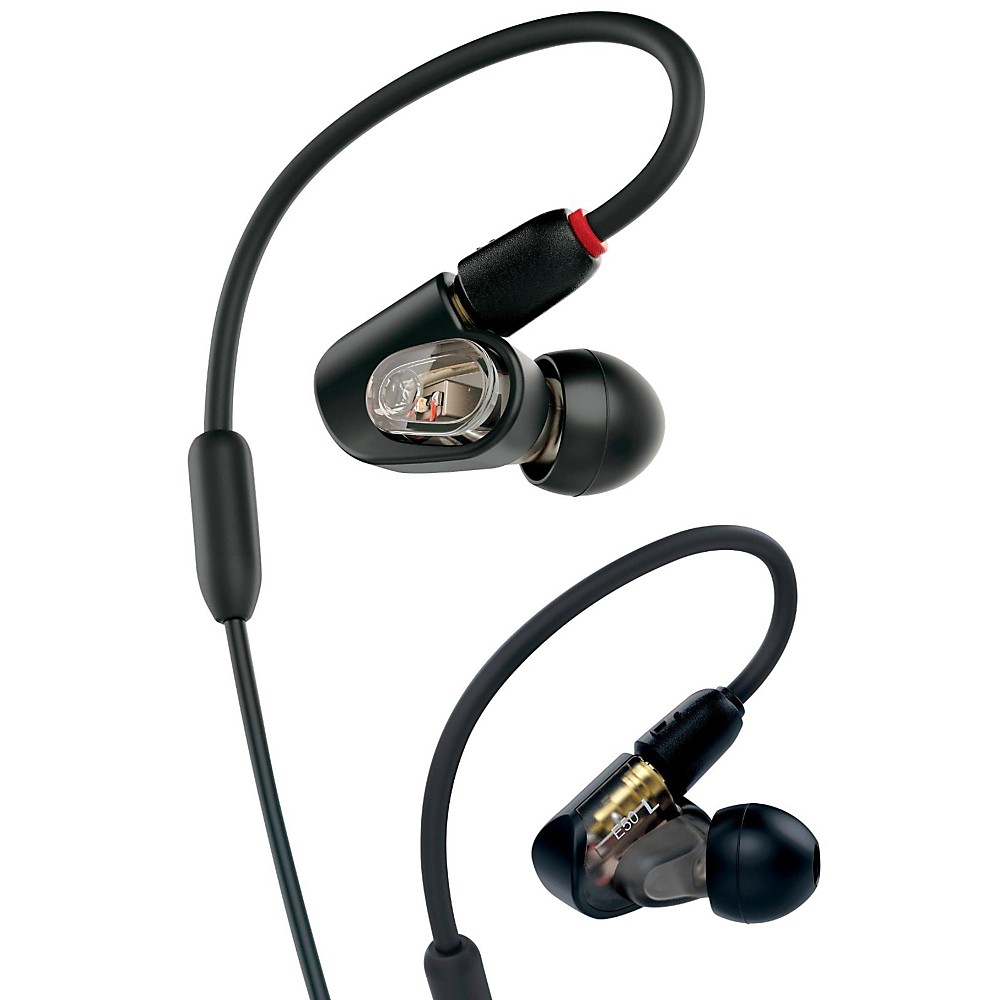 The ATH-E50 features specially designed housings that provide excellent isolation, ensuring confident, comfortable stage performance. To address the evolution of modern music production, this model also excels at providing a consistent reference in every sonic environment.
The sound isolation and comfort offered by the ATH-E50 are enhanced by the four sizes of included silicone ear tips (XS/S/M/L), which allow you to create a custom fit.
The ATH-E50 also comes with a detachable 1.6 m (5. 2′) cable, with newly developed A2DC (Audio Designed Detachable Coaxial) connectors at the headphones and a 3.5 mm (1/8″) stereo mini-plug output, and a carrying case.
They have powerful single balanced armature drivers that provide an accurate full-range response, and flexible memory cable that loops over the ears giving you a custom fit for long-wearing comfort.
The specially designed housings provide maximum isolation, allowing you to focus on the music. Detachable 1.6 m (5.2′) cable, with newly developed A2DC (Audio Designed Detachable Coaxial) connectors at the headphones, offers exceptional durability and optimized audio performance.
Pros
Excellent isolation from other noise on stage
Sonically clear
Includes different size silicone ear tips for comfort
Carry case included
Memory cable loops that go over your ears to give you a custom fit
Durable
Good build quality
Cons
They have their own design for attaching the cables, so you will have to use Audio Technicas cables.
5. Wi Digital Sebd10 "Sure-Ears" Noise-Isolating In-Ear Monitors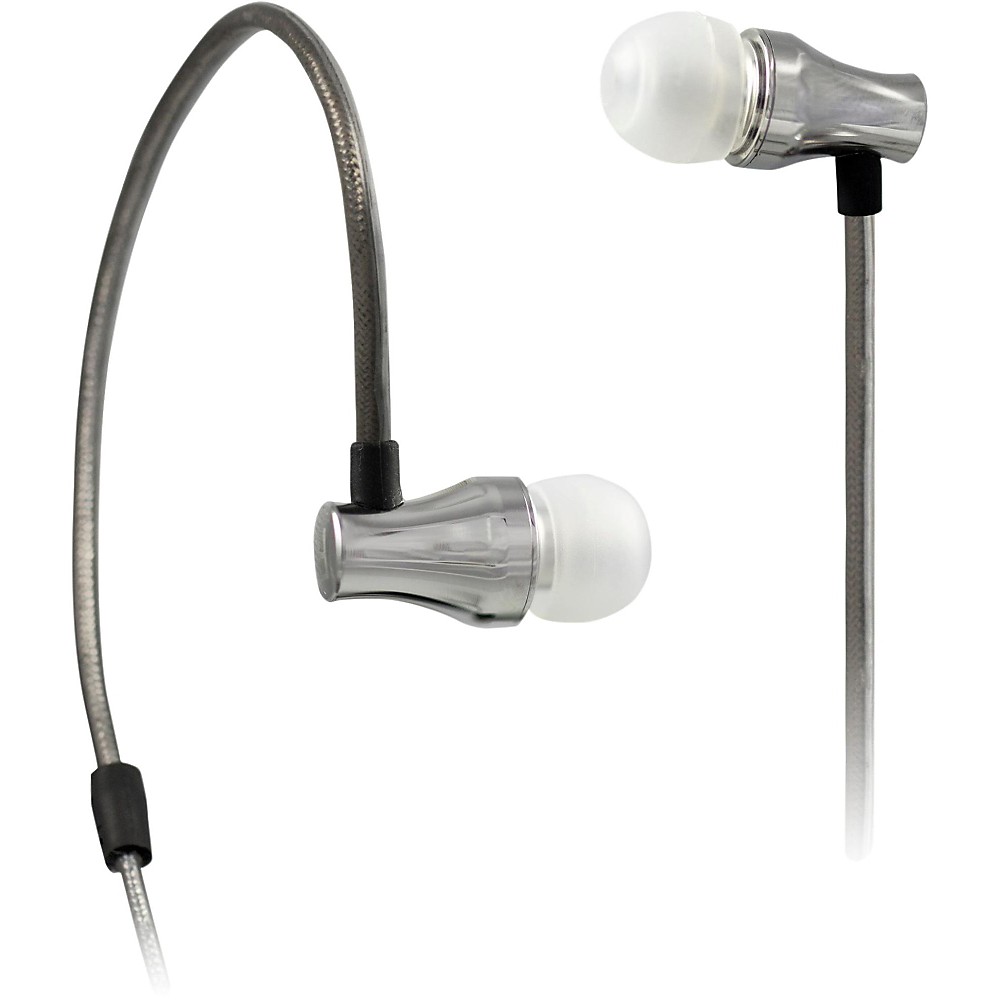 A refined and perfected proprietary In-Ear driver design, engineered to deliver the highest sound quality. And of course, the sound that made Wi Digital Systems famous – brilliant instrumental sounds and vocals with crystal clear high notes, defined mid range, and rich, powerful low end that will satisfy the most demanding user.
The Sure-Ears Technology – Wi Digital's new Sure-Ears Personal Reference Monitors are uniquely designed using a premium 10mm Permanent Magnet Dynamic Loudspeaker in a solid brass housing, optimized to deliver an exceptional sound experience to match your passion for your vocals as well as bass, drums, and keyboards.
Ultra-Comfortable Secure Fit Designed to look, feel and fit like no other In-Ear monitors, the feather-weight Wi Sure-Ears monitors are incredibly easy to wear even for an extended period of time.
Engineered with bendable metal reinforced ear loops, the Wi Sure-Ears monitors are superbly constructed to ensure a comfortable fit and secure placement that will not slip or move when you are performing on stage.
Tangle & Kink Resistant Cable – Wi Digital's exclusive tangle and kink-resistant cable is designed to resolve itself quickly and easily with a simple and gentle shake stopping those knots and annoying tangles that can potentially damage the cable.
Noise-Isolating -Wi Sure-Ear noise-isolating reference monitors can provide -26dB of isolation and passive noise cancellation when properly worn.
Sweat-Proof – Designed to withstand heavy perspiration, the Wi Sure-Ear monitors can be used in all types of weather and environments.
Pros
Great sound
Isolation from other noise on stage
Very comfortable
Lightweight
Kink resistant cable
Sweat-proof for heavy perspiration
Good fit
Well built
Cons
Not as much bass as some other models
6. Ctm Dvs-U10 Da Vinci Series X In-Ear Monitors Black/Silver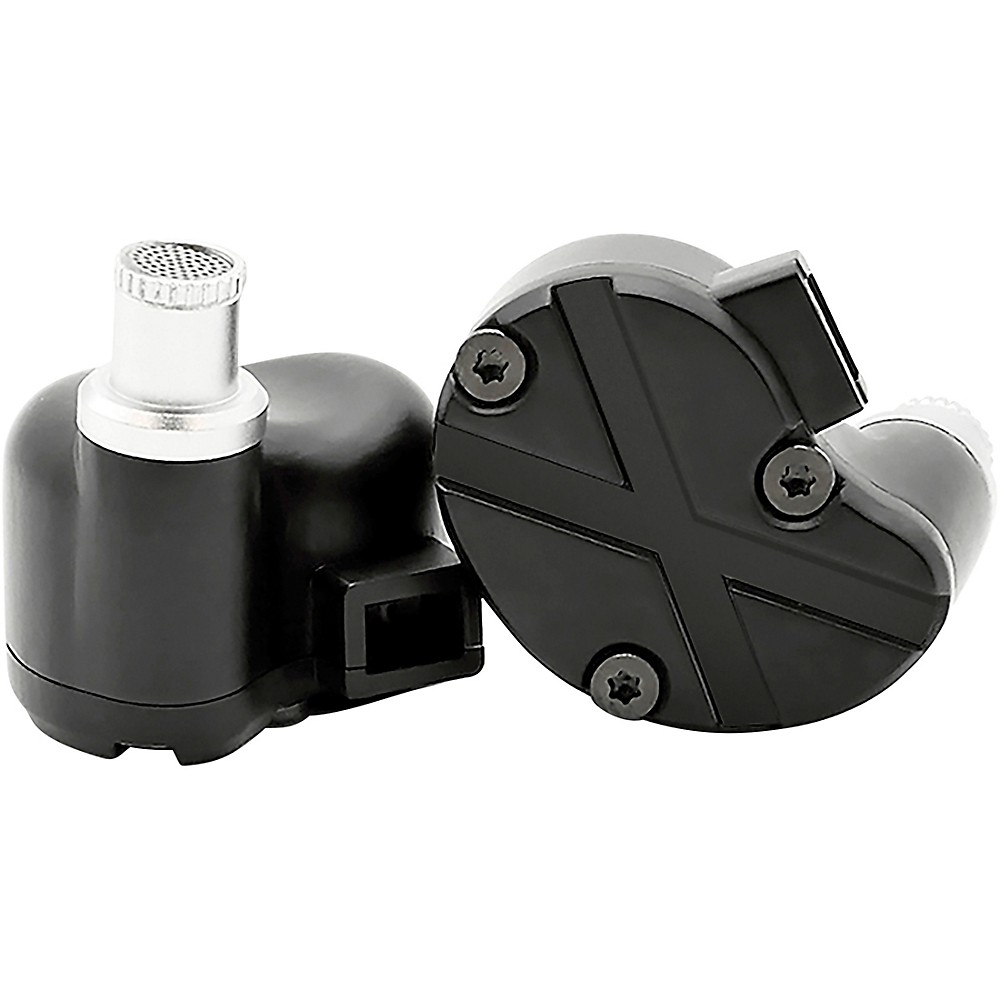 The CTM DVS-U10 Da Vinci Series X in-ear monitors are for artists who demand the absolute best. Nothing can prepare you for the immersive experience of listening to the Da Vinci Xs. Whether performing in stadiums or listening at home, its 10-driver configuration and design will inspire and amaze you.
The DaVinci series opened a new window of opportunities at CTM to not stop innovating. So again, the bar was raised above and beyond with The DaVinci X.
The sheer amount of power of this 10-driver configuration is managed by a 5-way crossover and, when added to its unique ergonomic design, delivers an astonishing listening experience.
The DaVinci X is recognized as CTMs Mona Lisa among audiophiles and professional audio reviewers.Input Sensitivity: 117.2dB @ 1kHzFreq Response: 20 Hz to 20 kHzSpeaker: Ten Balanced ArmatureImpedance: 43.8 ohm @ 1 kHzNoise Isolation: -26dB Input Connector: 1/8 (3.5mm)Acoustic Filters:150O and 300O".
Pros
Best build quality we have seen
Extremely comfortable
Instrument separation
Very detailed sound
Robust and durable
Cons
7. Mackie Mp-240 Bta Dual Hybrid Driver In-Ear Monitors With Bluetooth Adapter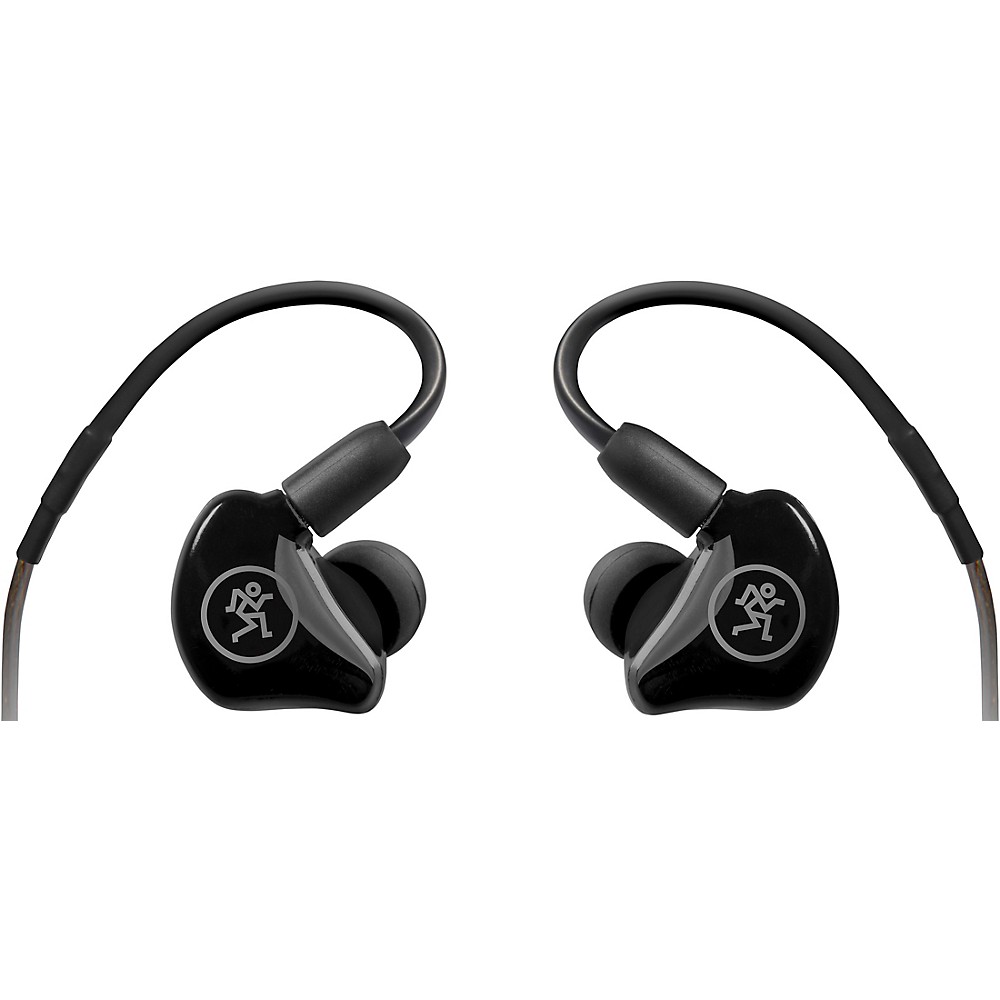 The Mackie MP-240 Professional In-Ear Monitors are designed for both performing artists and casual music listeners. For decades, Mackies renowned loudspeaker and monitor designs have been helping artists perform their best. MP-240 Professional In-Ear Monitors build on that legacy with incredible sound and build quality for both artists and personal listening.
Featuring a dynamic driver paired with a balanced armature, MP-240 In-Ear Monitors deliver airy highs, low-end punch, and nuanced sonic detail. And thanks to their specially molded enclosures, they sit gracefully in your ear with a comfortable, ergonomic fit and superior sound isolation.
The included MP-BTA Bluetooth Adapter makes on-the-go listening a breeze to.
Pros
Great audio quality
Very detailed sound
Comfortable
Blue tooth adapter included
Nine pairs of ear tips included
Price
Cons
The chord that's included can be a little short for some people.
Buyers Guide
Before you go out and buy in-ear monitors, there are a few important considerations to keep in mind.
1. Sound Quality
One of the most important factors to consider here is the sound quality. First and foremost, you do want to look for high-quality drivers.
As you can tell, the higher-end units come with multiple drivers, with some coming with up to 8 separate drivers. Generally speaking, the more drivers are present, especially for the different frequency ranges, the better the sound quality will be.
You then also want to pay attention to the impedance, the SPL or sensitivity, and the frequency range. The higher each of these figures are, the better the sound quality will be.
2. Fit & Comfort
You do also want to look for in-ear monitors that have an excellent fit. For one, this means that they should be very lightweight and compact. You don't want to be wearing something too heavy while performing on stage.
You then also want to look for ear tips that allow for a very secure yet comfortable fit. These will usually be made out of either silicone or memory foam. Most models then also come complete with ear hooks so that they stay in place while you are playing music.
3. Durability
The next thing to look out for here is how durable the in-ear monitors in question are. Simply put, they should be made out of high-quality materials that will last for quite some time. Something to look out for here are the connectors, as these will often be weak points.
4. Noise Cancelling
Another very important thing to keep an eye out for is that the in-ear monitors feature a noise-canceling design. This is usually going to come down to the ear tips or earbuds. Whatever the case may be, one of the defining features of in-ear monitors is that they cancel outside noise.
5. Price
Yes, you do then also want to pay attention to the price of the in-ear monitors in question. Do keep in mind that you generally get what you pay for, and with a higher cost generally comes higher overall quality and functionality. Yes, this does also have to do with the brand name that you go with.
FAQs
1. How do in-ear monitors benefit singers?
In-ear monitors are beneficial for singers because it allows them to cancel outside noise. It allows the singer to hear only what they are singing and playing, as well as the other instruments, without having to listen to crowd noise or other interference. It allows the singer to hear exactly what they are singing at all times.
2. What are the best in-ear monitor brands?
Some of the best brands on this front include Shure, Sennheiser, Audio Technica, Mackie and Westone Audio.
3. What's the difference between in-ear monitors and earphones?
Earphones generally sit on the outside of the ear, whereas in-ear monitors go right inside of the ear canal. In-ear monitors also tend to have better noise-canceling capabilities. Most models then also allow a singer to only hear what they are singing, as well as the other instruments being played. In-ear monitors will usually also come with more than one driver.
Conclusion
If you are looking for the very best in-ear monitors for singers, the Mackie Mp-460 In-Ear Monitors are the ones that we recommend. Yes, they are very expensive, but their durability, comfort, and overall sound quality just cannot be beaten.