If you are on the market for a new acoustic guitar, you have definitely come to the right place. Now, you are probably having some trouble finding the best guitar for your purposes. After all, there are literally thousands of options out there to choose from.
However, today we are here to take a look at one specific type from a very popular brand name, Fender.
This is one of the most popular guitar brands out there, and as far as this particular acoustic guitar goes, they have not failed to deliver a quality product. Let's take a closer look at one specific Fender guitar and what exactly it brings to the table.
Fender CD-60 Dreadnaught Acoustic Guitar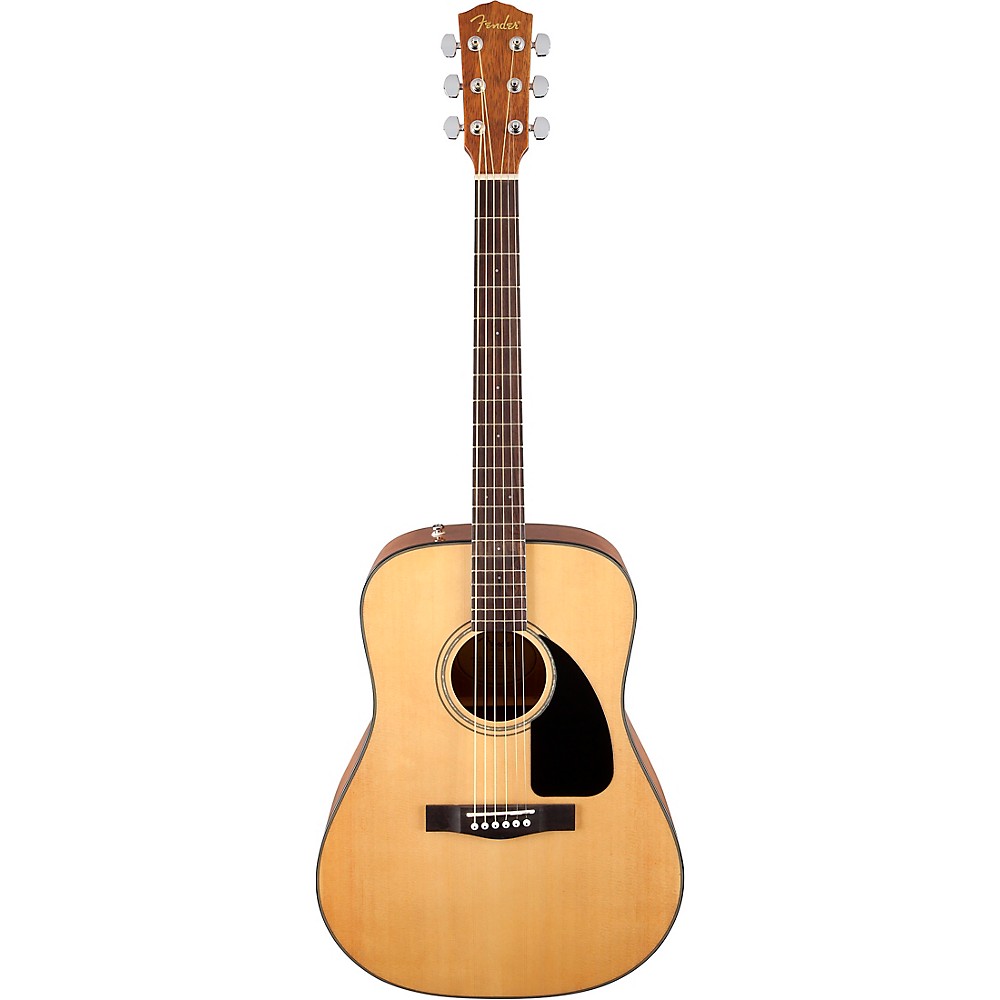 If you are looking for an acoustic guitar that has fantastic projection and a good low-end tone, then a dreadnought guitar such as the one we are reviewing today is a good option to consider.
The Fender CD60 dreadnought acoustic guitar comes in at a rather reasonable price considering its extremely high level of quality, functionality, and amazing tone.
It is also worth mentioning that this is a very beautiful-looking guitar that has a classic old-school design.
Who is this for?
The Fender CD-60 dreadnought acoustic guitar is designed for many different playing styles. Due to the way in which it is built, it works just as well for rock as it does for Blues and other types of music.
Moreover, due to the fact that it is a dreadnought guitar, it performs really well at the low ends, it has plenty of volume, and it looks really cool too.
Although this guitar is fine for basic playing at home and for practice, it is also something that you could use for live performances. It definitely has more than enough quality to please any crowd. We would say that this guitar is perfect for anybody who wants a nice acoustic guitar.
What's Included?
When you purchase the Fender CD60 dreadnought acoustic guitar, this is exactly what you get. It comes complete with a scalloped X bracing system, a mostly mahogany construction, a rolled fingerboard, and even a hard-shell case.
The fact that this guitar comes complete with a hard-shell case is an added bonus. Having the hard-shell case is always nice because it allows you to store your guitar in a safe manner, and it's nice for portability too.
Overview of Features
One thing that you might appreciate about this offender guitar is the fact that the back, the body, and neck are all made out of mahogany. Mahogany is of course a fantastic tonewood to use for an acoustic guitar.
The reason for this is because mahogany perfectly balances all ranges of sound. It's also something that is suitable for most players and guitar body shapes. It also produces excellent sound. It features a really woody sound with great overtone coloration, as well as a good emphasis on bass and treble, combined with a punchy tone and low overtone content.
The top of this guitar however is made out of spruce, and features a scalloped X bracing system. Spruce is a really well-rounded tonewood that has a very broad dynamic range. That X bracing system also allows for a very well-balanced voice combined with great stability.
This guitar then has a walnut fretboard. Walnut sounds pretty nice when used for a fretboard, and it's pretty long-lasting too. Let's keep in mind that the fingerboard of this guitar is rolled, which does make it much more comfortable to play.
Remember that the steel strings on this guitar are suited for playing a variety of music, including bluegrass, rock, country, blues, and other such types of music.
Tutorial
The only thing that you really need to know about this particular acoustic guitar is how to play it. Therefore, as a beginner, if you are having trouble, we've included a little tutorial video here on how to get started with playing an acoustic guitar.
Pros
Sounds fantastic
Rich and warm
Stands up to hearty strumming
Ideal for rock, blues, bluegrass, and more
Looks very nice
High-quality tonewoods
Comfortable to play
Cons
Strings are a bit weak
Staying in tune can be a problem with vigorous play
Alternatives
Although this Fender guitar is not overly expensive, it still might be pricier than you are willing to deal with. Moreover, it also doesn't come with extra strings, a tuner, guitar picks, or anything else of the sort.
If you are looking for something much more affordable that is ideal for beginners and comes complete with everything, including strings, a strap, clip-on tuner, a taste, picks, and a pitch pipe, the Martin Smith Acoustic Guitar Kit is worth checking out.
Conclusion
If you are looking for a durable, well-rounded, and nice-looking acoustic guitar, we think that the Fender CD60 dreadnought acoustic guitar is a perfect choice to consider. Moreover, considering its high level of quality, the price is still not very high.