If you are looking for a nice digital keyboard or piano, then you have dozens, if not hundreds, of options to choose from. This wide array of choices does make the decision-making process a little difficult. However, this is what we are here to help you with today.
Today, we want to take a look at one very reliable and high-quality digital piano that comes complete with a wide variety of features. It's a fantastic model for beginners to learn on, yet also performs well on a professional level too.
Yamaha P45 88-Key Weighted Digital Piano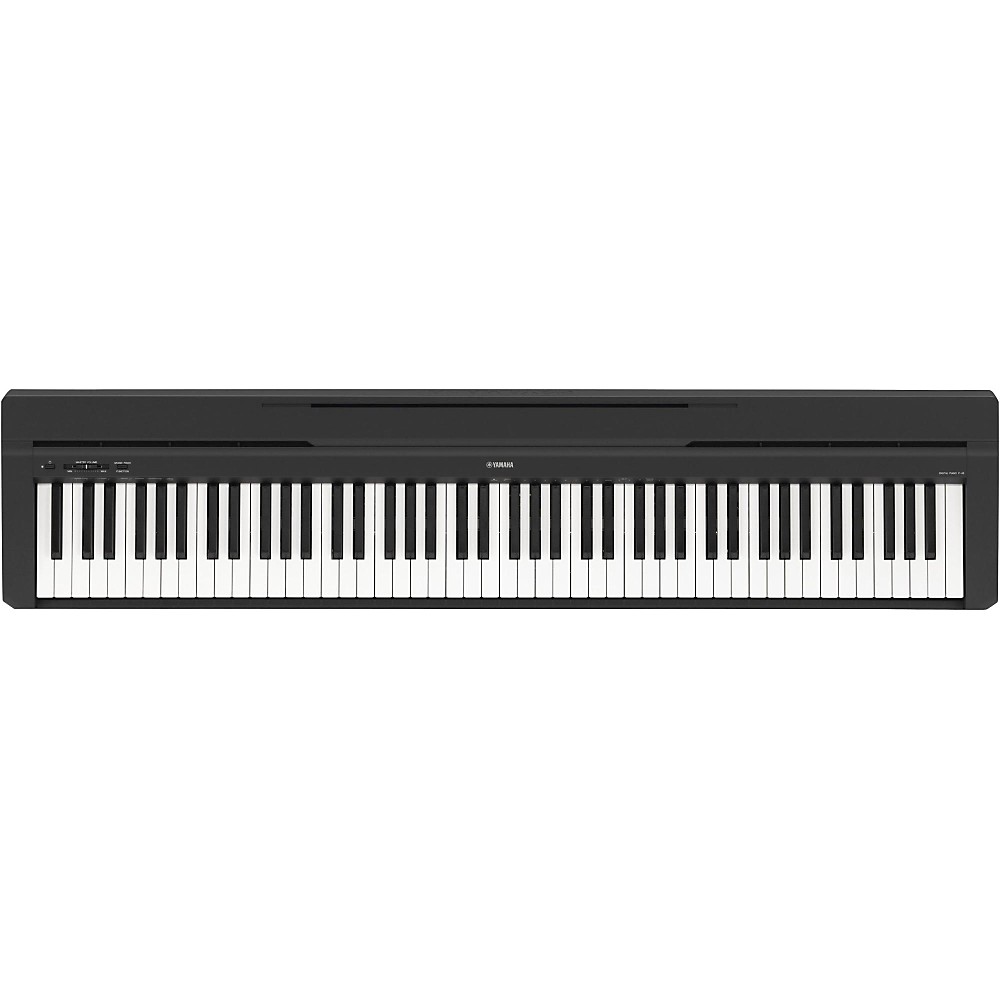 Today we want to take a closer look at the Yamaha P45 weighted digital piano. This is the only 88 key digital piano made by Yamaha. It is, therefore, fairly exclusive. It is a fairly basic model, but it does come complete with a variety of features that make it very user-friendly and fun to play.
It is certainly something we would recommend for a beginner as well as for a pro. Keep in mind that it is of course weighted, which means that it feels a lot like an acoustic piano. This is something that many people are going to appreciate.
Who is this Product for?
If you are looking for a moderately priced keyboard or digital piano that feels like an acoustic piano, then this is a great option for you to consider. Now, it is a fairly large digital piano, although it does of course have 88 keys.
This makes it extremely versatile, especially in terms of the range of notes that it can play at once. It is therefore ideal for professionals who need a keyboard with many notes, as well as for beginners who are just learning how to play. It's just an all-around good model.
What's Included?
The Yamaha P45 digital piano comes complete with the digital piano itself, the power cord, an owner's manual, and a sustain pedal. It also comes with a sheet music holder. For the fairly low price that it comes in at, the fact that it comes complete with a sustain pedal is pretty neat.
Overview of Features
As mentioned above, the Yamaha P45 piano does come complete with 88 fully weighted piano-style keys. The fact that they are fully weighted does allow for an enjoyable playing experience. This perfectly mimics the feel and experience that you get with an actual acoustic piano. This means that the action is much heavier on the lower end and lighter on the higher end.
This is one of the reasons why we say that this particular digital piano is ideal for beginners. It offers a realistic practicing and playing experience that will then translate to an acoustic piano. What is also convenient is that the black keys have a matte finish that is not slippery. This makes it ideal for playing for prolonged periods of time.
You may also appreciate how this particular digital piano comes complete with ten different voices. It features digitally sampled tones from a variety of Yamaha acoustic grand pianos. There are a variety of piano-style tones, as well as others, including some strings.
What is really cool is that there is actually a dual-tone playing mode, which means that you can combine two voices. This means that you can combine strings and piano sounds together for a really interesting playing experience.
Do keep in mind that advanced wave memory sampling technology is used to sample the various voices that this digital piano then features. This means that the sound recreation is extremely accurate.
You may also appreciate how this digital piano features simple single button operation. It doesn't have all that many controls, but it is extremely easy to use. You can use a single button on the keyboard to change voices, configure the metronome, play demo sources, and more.
The other benefit of this digital piano is the fact that it is fairly lightweight and compact, which is surprising, seeing as it has 88 keys. It's a good keyboard to have in a small space such as an apartment.
Tutorial
This is in fact one of the most user-friendly beginner digital pianos around, and it is very easy to use. It has a simple one-button operation, so there is really not that much to know. With that being said, here we have linked to a video that demonstrates exactly how the Yamaha P45 digital piano functions.
Pros
Comes with everything you need to get started
Ideal for beginners
Weighted keys for an acoustic feel
Full set of 88 keys
Black keys are non-slip
Reasonable price
It contains quite a few voices
Dual playing mode
Cons
Not the most durable keyboard around
Not as many voices as some higher-end models
Alternatives
There are of course also many good alternatives to consider. If you are looking for something much smaller and more compact, yet also for something that has far more voices and tones, as well as more features. Overall, we recommend checking out the Casio 44 key SA – 77 mini personal keyboard (read our in depth review on Casio SA-77 44 key). If you are looking for a good keyboard for your child, this is probably one of the best options to consider.
That said, if you would rather stick with Yamaha, another good model to consider is the Yamaha PSR E363 61 key touch sensitive portable keyboard (read our in depth review on Yamaha PSR E363 61 key) . This is a very small and compact keyboard that comes in at just 13 pounds, and is therefore very portable. It also comes complete with a wide array of features that beginners are going to appreciate. This particular keyboard is also specially designed to connect to your computer and music-making software.
Conclusion
All in all, for the fairly low price that it comes in at, we think that the Yamaha P45 digital piano is a fantastic investment to make. It's functional, it sounds nice, and it feels like a normal acoustic piano. It's something we would definitely recommend checking out.